LEGO is an abbreviation of two Danish words "Leg godt" meaning "Play well". LEGO is a toy production company founded in Denmark by Ole Kirk Kristiansen in 1932. LEGO has been in the market for the last 90 years producing building bricks for all age categories with a variety of themes such as Star Wars, Technic, Friends, Marvel, Harry Potter, etc. This article will mainly discuss LEGO MINDSTORMS and BOOST which are Lego building sets that transform to programmable robotics, challenging adults and kids to use coding skills, taking playtime to the next level.
LEGO has created MINDSTORMS robot inventor 51515 that is part of LEGO's technology-based production line that enables the users to build and code their robot and explore the engineering and programming sectors at the same time, as seen in Appendix 1.
LEGO MINDSTORMS includes bricks and hardware to create 5 different robots with a variety of functionalities that are controlled using the LEGO Mindstorms app. The app includes the documentation and challenges that will enhance the building and coding experience of the users, and it can be installed on both IOS and Android operating systems. Users are provided with a step-by-step guide to build each robot and how to configure them based on the user preferences and needs. To support all the functionalities in the robots, the MINDSTORMS app supports two ways of coding, either using word block programming or Python programming language that will allow the users to unleash their creativity. An example of the programming could be seen in Appendix 2.
The five robots that can be built are: BLAST the stoic hero who can hammer or fire darts and grab things so he is perfect to guard your room as seen in Appendix 3, CHARLIE the quirky sidekick helper who can give high fives, play drums, dance, and deliver small gifts with a smile as seen in Appendix 4, GELO a real life four legged robot who can walk and climb over obstacles including performing tricks using its unique build mechanism as seen in Appendix 5, M.V.P the Modular Vehicle Platform that can be designed and coded to be a crane, shooter turret, brick-eating truck, or a buggy and enjoy its remote control capabilities as seen in Appendix 6, TRICKY the sporty bot who can do slam dunk or master a plethora of robot sports such as bowling, basketball, or soccer as seen in Appendix 7. Additionally, LEGO MINDSTORMS 51515 robots can be built using a variety of building bricks and hardware elements that are included in the manufacture box as mentioned below:
-Approximately 1000 pieces  
– 5 unique models to build
– Free access to the MINDSTORMS app via Windows, IOS, or Android
– LED 5 X 5 matrix
– Bluetooth connectivity
– Decent Speakers
– Rechargeable battery
– Distance sensor
– 4x Medium angular motors that have accurate positioning feature
– The HUB that can be coded using Word block programming or Python programming language
Moreover, on the same technology-based production-line, LEGO has created BOOST from which 5 different models can be built, including Vernie the moving and taking robot, the M.T.R 4 Multi Tool Rover 4 that can be built as a spring-loaded shooter vehicle, Frankie the Cat acting as pet with multiple animals moods, Guitar 4000 that functions as the electric guitar, and the Auto builder that builds other machines. All the models also can be controlled through a portable device that is compatible with multiple operating systems including IOS and Android. This robot is mainly created to suit users aged between 7 to 12 years old to enable them to explore their path in programming and engineering. Through LEGO BOOST, kids and young adults will be able to devise any design in their minds and bring it to life through the hardware features that are available in the manufacturer's package. In addition, both LEGO MINDSTORMS AND BOOST are suitable for the rising generations; in order to involve them in the world of development and digital transformation from a young age.
To sum up, LEGO MINDSTORMS and BOOST are two of LEGO's technology production lines that are well driven by their engineers and software developers to support kids, young adults, and adults to explore programming in a simple and enjoyable approach. They also enhance the learning style and creativity for the users since they provide a mixture of designs that can be built by using the official guide or inspired by the users' imagination. It is recommended to have one of these LEGO sets since they are built and programmed with the latest technology available in the market. Interestingly, schools and educational centers in the Kingdom of Bahrain such as Riffa Views International School and Nasser Vocational Training Center have now started to use Lego's technology lines.
An Article by Hamza Mehaizea, Works in Infrastructure Services at Batelco 

Appendix 1

Appendix 2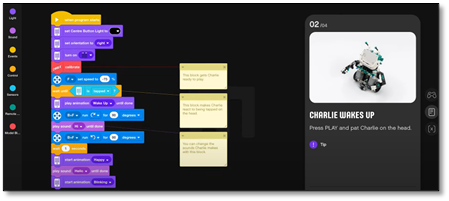 Appendix 3: BLAST

Appendix 4: CHARLIE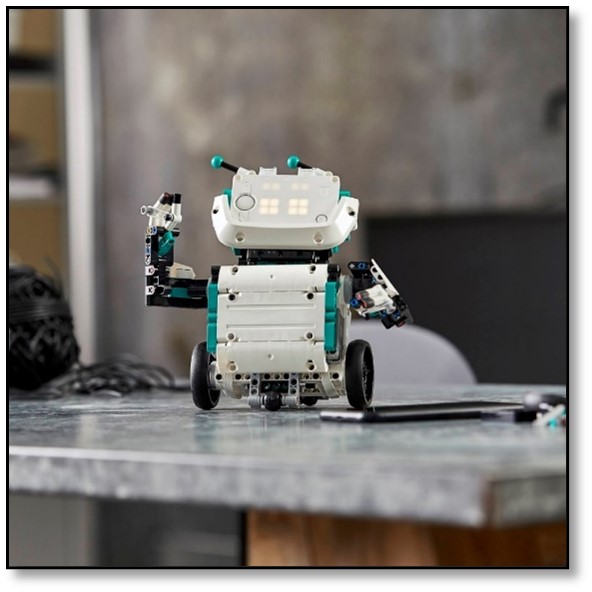 Appendix 5: GELO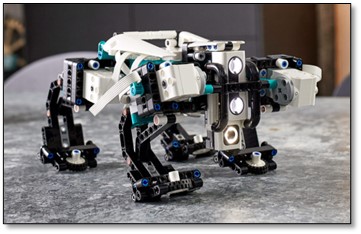 Appendix 6: M.V.P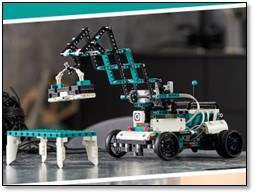 Appendix 6: TRICKY

Appendix 6: LEGO BOOST


References:
-Retrieved from LEGO history: https://www.lego.com/en-us/aboutus/lego-group/the-lego-group-history
– (2020, June). Retrieved from LEGO Mindstorms 51515: https://www.lego.com/en-us/aboutus/news/2020/june/lego-mindstorms-robot-inventor
– (2022). Retrieved from LEGO: https://www.lego.com/en-us/service
– (2022). Retrieved from LEGO: https://www.lego.com/en-us/product/boost-creative-toolbox-17101
– (2023, 05 01). Retrieved from LEGO eduction: https://education.lego.com/en-us/
– (2023). Retrieved from https://ideas.lego.com/
– LEGO BOOST. (2023, 05 01). Retrieved from Amazon: https://www.amazon.com/LEGO-Creative-17101-Educational-Award-Winning/dp/B06Y6JCTKH?th=1
– MINDSTORMS. (2023, 05 01). Retrieved from LEGO: https://www.lego.com/en-us/product/robot-inventor-51515
– TheBrickPal. (2017, 01 04). Retrieved from Brickset: https://brickset.com/article/25828/all-you-need-to-know-about-lego-boost
– Ulanoff, L. (2017, 07 25). LEGO BOOST. Retrieved from Mashable: https://mashable.com/article/lego-boost-review