Gaming is considered one of the most profitable entertainment industries around the world, with technology being its prime shaper throughout the past decades. And Mobile Technology specifically in recent years has further revolutionized the Gaming Market, leading to a new generation of gamers and expanding the concept to wider age groups and segments.
So, how did it all start?
Attempts at creating game boxes existed a long time ago. Perhaps we can trace the birth of commercial or home game systems to the appearance of Brown Box in the 1960s and then Atari in 1972, followed by the rise of arcade machines and home consoles, then the move towards PC based gaming, and online gaming to the now so-called 'Mobile Gaming'.
The revolution of the Gaming Industry is relentless, as an outcome of the technology evolution that is shaping the dynamics of the gaming industry – from solo-player games and machine-to-player competition, to multiplayer games on Arcades and LAN networks, to online multiplayer gaming environments.
One by One Steps in History
1967- The first ever gaming system 'Brown Box' was programmed with a variety of games and based on a vacuum tube circuit that connects to a TV set, allowing users to control cubes. It can be considered the first multiplayer, multiprogram video game system with multiple game programs Figure 1.  Games in the Brown box included: ping-pong, checkers, four different sports games, target shooting with the use of a light gun and a golf putting game.
1972- Atari came next to further improve and capitalize on the concept of Arcade Gaming. Atari had its first real electronic video game 'Pong' which was a table tennis twitch arcade sport video game (Figure 2). Other games included Asteroids, Centipede & Missile Command. Arcade machines gained popularity and were also adopted by restaurants, bowling alleys and shopping malls.
1973- The release of the first example of a multiplayer competition game on separate screens was 'Empire', which was introduced by PLATO network systems; Empire was a networked multiplayer-based game that can be considered as the start of online games. It is worth mentioning that Plato network systems was created in the 1960s for a university's educational purposes, and developed its own first two player game, 'Spacewar'.
Between 1975 & 1985 more game consoles were appearing in the market for home use, and more companies were specializing in developing video games, and PC based gaming. What caused more drastic changes to the dynamics of gaming was the advancements in computer microprocessors and the rise of the Internet.
It was the improvements in microprocessors that paved the way to more complex types of games, better multiplayer features, and home computers adoption by gamers. For example, the first shooting-based game, 'GunFight', was created in 1975 after Intel's microprocessor was introduced. Moreover, home computers such as the Commodore Vic-20, the Commodore 64 and the Apple II grew in popularity alongside more advanced home consoles following the rapid changes.
There was no doubt that the gaming market was maturing and taking shape. Key console giants included Atari, Sega, Nintendo, and PlayStation- some of which were present since the early Arcade games and others which emerged later on with the new advances.
Let's look below at some key first consoles and famous games:

In 1980- Atari released the Space Invaders for its Atari 2600 VCS (Video Computer system) which was released in 1977. Figure 3
In 1981– Nintendo released its famous Donkey Kong game, while its first console was released in 1977, the Color TV Game.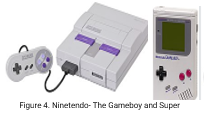 In 1985– Nintendo released the Nintendo Entertainment system and the famous Supermario Bros (Figure 4). Other late consoles included the Gameboy, Super Nintendo Entertainment System, the Nintendo DS, the Wii, and the Switch.
In 1988- Sega released its Mega Drive system, and then 2 years later in 1991 its famous game character Sonic the Hedgehog. (Figure 5).
In 1994– Sony's PlayStation emerged and multiple releases followed for PlayStation, as will be highlighted below.
However, it was the internet which accelerated the rate of advances in gaming bringing new batches of games, graphics, and enabled more capabilities for gamers to interact and compete from different zones and computers (multiplayers). Additionally, it allowed home-consoles to rise again by enabling Online Games.
In 2000- the world's first internet ready console was out (Sega's Dreamcast), which paved the way to online gaming as witnessed today. Figure 6
In 2000- PlayStation 2 (PS2) was released and became one of the best-selling video game console of all time. Figure 7 According to Statista, over 158 million PS2 units were sold worldwide and the latest PlayStation 5 console has sold 20.65 million units as of July 2022.
In the following years, the internet advances continued changing the console market strategies, and also enabled advances in PC-Based gaming which is another big gaming market sector. For example, Blizzard released World of Warcraft in 2004 as it joined the Massive Multiplayer Online (MMO) subscription market and notched up 14 million monthly paying subscribers.
In 2019/20– PlayStation 5 and Xbox X were released, both of which are known by all gaming fans around the world today.
In summary, the console market remained a dynamic and competitive one. Although the biggest players were Sega and Nintendo in the 1980's and 1990s, according to today's market outlook, the competition is fierce between new console market giants- PlayStation, Xbox and Nintendo, with the specific console models PlayStation 4, Xbox One and Nintendo Switch. As per Statista, forecasts suggest that PlayStation will remain at the top with its PlayStation5 predicted to hit 50 million units in comparison to Xbox Series X hitting 30 million units by 2023.
Mobile Technology and Gaming
Another technological advancement that impacted the gaming industry is the development of mobile technology and smart phones in 2007. As a result of the high processing power delivered by smart phones, Mobile Gaming was quickly adopted by on-the-go gamers and replaced the handheld gaming devices. Moreover, the concept turned out to be very profitable since the monetization of Mobile Games is based on micro-transactions. Candy Crush is an example of one of the most profitable mobile games, generating USD 1.2 billion in 2021. Figure 9 PUBG is another popular game that grossed USD 1.2 billion in the first eight months of 2022.
The transition to the popularity of Mobile Gaming Platforms can be credited to the release of App store, followed by Googles store for Android, paving the way for developers to create free, paid and pay per feature games to the mass market. Additionally, game providers continued to launch new services that could work on multiple devices including mobile. As for console makers, they also started launching cloud-based subscription services while continuing to develop new consoles.
Now, let's take a look on how lucrative the gaming business is worldwide. The global gaming market is expected to reach USD 256.9 billion by 2025 (techjury). According to statsita.com, the mobile App gaming industry will close 2022 with USD 103.5 billion USD; and smart phone gamers claim the biggest share of 45% totaling USD 91.4 billion.
Batelco & the Future
The expansion of the ever-growing gaming industry opened up opportunities for telecom players to diversify their business using existing capabilities.
Batelco stepped into the Gaming industry from the early days and cater for the developing and special needs of the gamers' segment. In the early 2000s, Batelco launched its first gaming portal 'Aywah' which while being very basic, offered customers cool and trendy content. Today, Batelco is not only a partner with the most advanced gaming providers (such as D11 Gaming and Todos Gamers hosting the famous Esports- (D11 Gaming & Esports), but actively responds to the gamers' community by bringing their preferred games and sponsoring popular game tournaments such as Annual FIFA Tournaments, which had 100 players participate in Q4 2021. Additionally, a dedicated Batelco gaming platform was launched in 2022 with a pool of casual games for mobile subscribers to download and subscribe (Batelco Games)
Currently, Batelco is partnered with 250 game labels and growing. And to further support gamers, the Gift Card 3abee (3abee) has been introduced to specific games for gamers to gift each other.
In addition to the gaming-specific services, Batelco continues to offer its gamers' segment quality core connectivity related services/products to give them the best possible gaming experience. This includes offering the fastest connections (fixed & mobile) to play online games, offering dedicated special gaming bundles/packages on top of customer services, giving customers the flexibility to download/play games and charge them directly on phone bills, as well as providing the latest gaming consoles/devices with affordable installment plans.
It is a never static industry where change is the only constant. The journey doesn't stop at this! Gaming advances are ongoing, and it is obvious that the future of gaming will be further impacted by the shift towards 5G technologies and cloud-based gaming, and as foreseen the rise of two main new industries will further cause drastic changes to the gaming world: VR and AI technology. Our role as Batelco is to ensure our customers get the utmost of all the advances in the best possible manner.
Enjoy Gaming
Hussain Abdulwahab
Batelco – Head, PD Mobility Services
Sources:
The history of the gaming industry in one chart | World Economic Forum (weforum.org)
The History Of Gaming: An Evolving Community | TechCrunch
The rise of gaming: Why should telecom operators care? (nagarro.com)
Candy Crush Revenue and Usage Statistics (2022) – Business of Apps
How Much Is the Gaming Industry Worth in 2022? [+25 Powerful Stats] (techjury.net)
The Brown Box, 1967–68 | National Museum of American History (si.edu)
PLATO Network – Online Gaming (weebly.com)